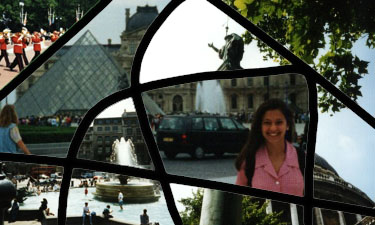 Photography in Communication



L'Introducion

Before embarking on Northwest Air Flight #57 S.F. to Frankfurt in late June of 1996, I had prepared (somewhat) to do some studying over in Europe on my trip aka educational tour. I signed up for no less than two courses offered by Eastern Washington University's "International Field Studies" program. Needless to say, it was worth it. But, you probably want to see how my stuff came out, and the web is a half-decent medium for showing off my work. ;-) So without further ado, from here on out, you'll be reading my reports and seeing my photo essays for Photography in Communications. . . in addition commentaries, notes, and the like.

Another note: The course included three reports as part of its requirements and also reports, the photo essays of course, and my personal journal (!). The three phases for reports were: pre-travel, travel, and post-travel. Don't ask me how they came up with that.


---
Predeparture Phase

   For the pre-departure phase requirement, I read John Hedgecoe's Complete 
Photography Course; from this excellent resource I chose my photography techniques. 
The techniques I chose are portraits, architecture, travel--what suits my fancy at the 
time--and, capturing motion. 

   From my assorted photos, three cohesive photo essays will be constructed. (After 
organizing the hundreds of pictures--nearly 550 altogether.) Hopefully most people 
will get a sense of a link between the photos. 

The Three Techniques
  * Portraits
	* Architecture
	* Travel

Other Techniques (may be mixed in with main 3, especially travel)
	* Motion & Ghosting
	* Natural light: day and night
	* Juxtaposition
	* whatever comes to mind

THEMES
	* Doors and Signs
	* Street life: cafes, shops, performances, socializing
	* people


---


It is with regret that I cannot offer you the photo essays right now -- I have the written parts, but not the pictures, and you can expect a several month wait before I can scan them. Luckily, I did scan some other fotografias before school got out, and can offer those. If you like, write me and I will contact you when the finished products are ready; in the meantime you'll just have to slobber with class over the paginas blancas.



Back to the Passport Frontpage
[ Newark | Dachau | Pompeii | St. Paul's ]
Other Photos
---
Last Updated: 7/27/97
All texts and images heavily copyrighted by Kenneth Ott.